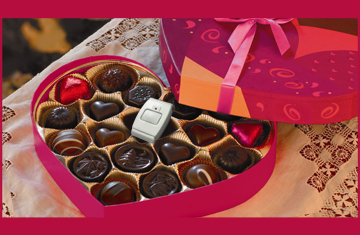 Regardless of how old you and your sweetheart are, or whether you're dating or have been married for 30 years, tokens of love are always appreciated on St. Valentine's Day and what better way to show love but with Life Alert's personal protection system.
You may be thinking…"Isn't Life Alert for the elderly?" And that your sexy, 40-something wife wouldn't appreciate a personal alarm. However, do you know what she would do if home alone and someone breaks in? The first thing an intruder grabs or blocks is access to the phone. But with Life Alert, your Valentine simply pushes the lightweight pendant that is worn around the wrist or as a pendant to summon help fast.
With one touch of a button, Life Alert's remarkable 2-way monitor alerts our emergency dispatch center where our dedicated and extensively trained dispatchers will talk to you, assess the situation, and send help faster than your beating heart on your wedding night. Even if you can't communicate with them, Life Alert will still send help; and the best part is you don't even need to use a phone.
But there's more! Life Alert's personal protection system can be upgraded to include their monitored Fire Protection System just in case that smoke you smell isn't coming from your smoke'n hot wife, but rather the romantic dinner that is burning on the stove. Standard fire alarms only make noise to warn of smoke, whereas, Life Alert's monitored fire protection system alerts you upon detecting fire or smoke while sending a signal to our team of dispatchers who will notify the local authorities.
Another upgrade feature is our monitored CO Gas Alarm which, upon detection of carbon monoxide, will alert a team of dispatchers who summon the fire department, even if no one is home. Having a fast line into the fire department provides protection and peace of mind at all times and this kind of security can leave you with nothing to be alarmed about.
As for adult children of elders, Life Alert makes a great Valentine's Day present for your parents. Valentine's Day is the day you show the people you love how much you care and that includes your parents. Banish the thought of having mom move in with you due to her getting on in age – she doesn't want to live with you, she wants to keep her independence. With Life Alert Protection, seniors can continue to live independently without having to give up their lifestyle. A Life Alert gift for Valentine's Day tells mom that you want her to be safe and protected always.
Regardless if your Valentine is 30, 50, or 80 years old, Life Alert is the gift that tells your special someone that you love them and want them to be protected.
If Life Alert protection could enhance your quality of life, and later replace or delay going to a retirement facility, wouldn't you be interested in a FREE informational brochure? Call 1-800-920-3410.