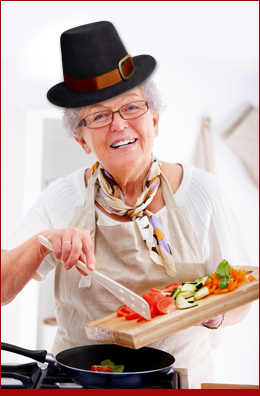 It's that time of year again, where savory, mouth-watering messages are all over TV, radio, print, and store ads; when temptation is allotted its big sale with coupons galore; a time when there's a universal agreement that we have been given a license to eat.
But who can blame us? How can we resist mom's turkey that she's been operating over with herbs and spices the way a doctor uses surgical instruments; or grandma's famous pumpkin pie whose recipe been passed down for generations; even Uncle Ted's special green bean casserole has you going back for seconds every time, just what is in that casserole anyway?
Add a little holiday stress over spending the day with mom, grandma, and uncle Ted all at the same time - how can one not over eat?
But if you do, Life Alert wants you to know we're there for you - even if you don't know if that burning sensation in your chest is heart burn or a heart attack, or if that sudden bloating and nauseous feeling is from over eating or a life-threatening allergic reaction to Uncle Ted's casserole because this year he added peanuts and forgot to tell you.
Regardless of the symptoms or causes, one touch of Life Alert's emergency pendant will signal our dispatchers who are able to get you help for any medical emergency at any time, 24/7, even on turkey day.
Life Alert offers other areas of protection too, such as, monitored CO gas poisoning and smoke detectors that send a signal to our dispatchers in the event that Uncle Ted leaves the casserole in the oven a bit too long.
Moreover, Life Alert's special 911 Phone can come in handy when the Turkey tryptophan kicks in as you're driving home and you fall asleep at the wheel. Just press the big, red, button on the phone and 911 will be called immediately.
So this holiday season enjoy your family (and the food) knowing that Life Alert Protection is a button press away.
If Life Alert protection could enhance your quality of life, and later replace or delay going to a retirement facility, wouldn't you be interested in a FREE informational brochure? Call 1-800-920-3410.