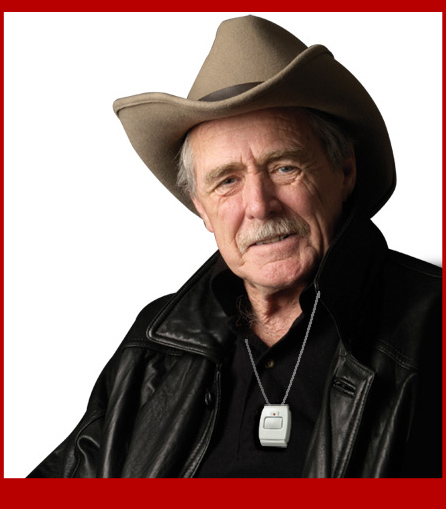 This Father's Day get dad something he'll use more than golf clubs; something that will stay with him longer than an expensive dinner; and something that can summon help better than his cell phone. Get dad the gift of Freedom and Independence with the Life Alert Protection.
Life Alert Protection consists of Life Alert's original medical alert system with emergency help button that is worn either as a pendant or on the wrist. Some medical alert pendants are large and bulky making it heavy to wear – let alone SLEEP with. But this medical pendant is so small it can easily be tucked into a shirt or covered by a long sleeve keeping it out of sight. More importantly, the lightweight, waterproof pendant is comfortable and can be used in the shower and tub; which is vital especially since the bathroom is one of main areas where the elderly are most vulnerable. Therefore, it's imperative that an emergency response pendant be able to work where moisture, humidity, and heavy water flow occurs, while being able to have the freedom to wear the buoyant pendant while bathing. So if dad falls in the shower, he can still summon help.
The system is easy to set up and use, just set the two-way communication monitor on a flat surface, plug it in, and go on with life. If dad needs help, he simply presses the help button on the pendant or wristband and an emergency dispatcher will notify emergency help; contact any family or friends, if requested; and stay on the line with him until help arrives. But that's not all; the dispatcher will be able to notify the medics of any prior emergencies or medication use that may be relevant to the emergency.
Life Alert Protection is just as unique as your dad, because it comes with package options for upgrades, which no other medical alert service does. Along with the original service, dad can upgrade with Life Alert's Monitored Fire Protection and/or Monitored CO Gas Protection Package.
Standard smoke and CO alarms just make noise to alert you of a problem. Unfortunately, this isn't always helpful with the elderly since Olfactic impairments increase for seniors with each passing year, and recent research indicates that people over 60 have a 30 percent olfactory impairment. By age 80, this percentage rises to over 60 percent, according to the U.S. Fire Administration.
But even if dad is as spry as a 20 year old golf caddy, sometimes all of us accidentally leave something on the stove too long. Life Alert's Monitored Fire Protection not only sounds an alarm upon detecting fire or smoke, it also sends a signal to a team of dispatchers, who then alert the local fire department.
Although smelling smoke may be easy to detect with the human nose, smelling Carbon Monoxide (CO) Gas is not. CO gas is odorless, colorless, and can build up to dangerous levels in water heaters, furnaces, clothes dryers or fireplaces. Life Alert's Monitored CO Gas Protection will detect dangerous CO levels, while sounding its siren to warn you and alert a team of dispatchers, who will notify authorities.
Another upgrade to the Life Alert Protection Package is with the mobile 911 Phone. When dad is out and about on the golf course, senior center or just doing chores, make sure he takes protection with him. In an emergency, he simply pushes the big, red, help button on the 911 phone to be connected to a 911 operator. This phone works anywhere and has nationwide coverage where cellular phones operate.
The best part of Life Alert's Protection Package is the cost. For a year's service, the original Life Alert system is cheaper than a high-end set of golf clubs and less then a monthly cell phone service. Each upgrade adds a minimal cost but provides priceless protection. Moreover, there are no hidden fees or unexpected increase of monthly fees. All Life Alert's services come with a price protection agreement which guarantees a fixed cost for the life of the contract, and allows the contract to be cancelled if dad enters into a nursing facility or needs 24 hour nurse care.
Although buying dad new golf clubs may sound like a good idea, this June 17th, protect the man who has protected you by getting him Life Alert's Protection Package instead, and you'll be sure to hit a hole in one.
If Life Alert protection could enhance your quality of life, and later replace or delay going to a retirement facility, wouldn't you be interested in a FREE informational brochure? Call 1-800-247-0000.