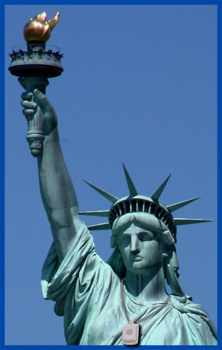 Choosing the right presidential candidate may be hard, choosing the right medical alert service is not. Vote for the nation's undisputed leader in personal protection by getting Life Alert.
Our founding fathers fought to ensure our inalienable rights for freedom and independence. As the Commander-and-Chief of your life, it is your job to ensure your own freedom and independence but also safety against any medical, fall, fire, or invasions in your home, and the best way to safe guard your house, family, and yourself is with Life Alert Protection.
Regardless of your political affiliation, all Americans want generally the same thing, Freedom, Independence, and Safety. Life Alert offers a variety of protection packages with cutting edge technology that would make Benjamin Franklin beam with red, white, and blue pride.
Life Alert has something for everyone and every lifestyle starting with their signature Life Alert Medical Alert system. This is the American iconic "Help! I've Fallen and I Can't Get Up" personal protection system which includes a patented 2-way communication monitor and a lightweight, waterproof, HELP pendant that can be hidden in a collar or sleeve – so like the secret service – no one will know it's there. When home emergencies arise, such as medical, falls, fire and even home intrusion, just press the emergency button and help will be summoned faster than the call for a ballot box recount.
Another executive order you can make in regards to your personal protection involves your safety while executing your constitutional right to cleanliness. Life Alert's bathroom/shower HELP button is perfect for adding that extra homeland security. Exclusively developed by Life Alert for better protection in the shower, bathtubs, bathrooms and bedrooms, this large HELP button is easily accessible, waterproof and the batteries – unlike presidents – never need changing or charging as they last up to 10 years.
But what if you want to fulfill that retirement dream of traveling across this great nation visiting all the national monuments but still wanting to be safe and protected? Then Life Alert's Mobile HELP & GPS is what the American dream is made of. This revolutionary mobile device gives you the protection of emergency dispatchers standing at the ready like the National Guard. So if the election results have you dancing at presidential parties only to find that you have fallen and can't get up, Life Alert will send HELP to you, fast, 24/7. So get on the campaign trail of safety with Life Alert.
Constitutionally speaking, Life Alert's Medical Alert System, Shower HELP button, and Mobile HELP & GPS are the three executive branches of freedom and independence. This November 8th, vote for the one that will give you Freedom and Independence -- Life Alert.
Ensure that you have Life Alert as your Secretary of Defense so you can protect yourself, your home, and your family, by calling 1-800-380-0768 for a FREE brochure on all of Life Alert's lifesaving services.