Life Alert News: Martin Luther King's Dream.
With Martin Luther King Day approaching on Jan 16th of this year, it's a good time to ponder the words of the great civil rights leader:
This note was a promise that all men, yes, black men as well as white men, would be guaranteed the unalienable rights of life, liberty, and the pursuit of happiness.
Dr. King's dream was to have all people be treated equally, that includes the elderly regardless of race, creed, or color. Freedom and Independence are inalienable rights that all people should be given, but when an elderly person falls one too many times, their freedom can be taken away by having to move in with family or go into a retirement home pre-maturely; even though this may not be what they want as seen in a survey taken by ACNielsen International Research. The survey concluded that 87% of Life Alert members said that Life Alert's protection is a main or important factor in their decision to keep living at home rather than going to a retirement institution.
But the elderly are not the only people who desire to be free and independent. Many people of all ages suffer from medical problems, such as seizures, M.S., and Lupus; and when a medical problem flares up they need to get help fast.
Like Dr. King, Life Alert also has a dream of helping people regardless of age and walks of life to have freedom and independence. Life Alert Protection helps anyone remain safe and independent. People living alone can use Life Alert if they fear a home intrusion; people who feel a medical emergency coming on can use Life Alert to get medical help fast; and seniors who fall can use Life Alert to get assistance with standing up.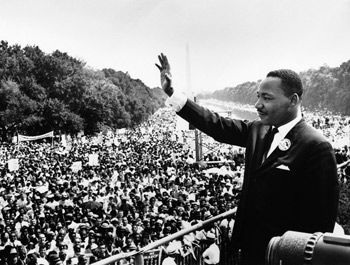 Just one push of the help button on the lightweight pendant activates Life Alert's patented 2-way communication monitor allowing any emergency help to be summoned fast, 24/7. There's no need to use a phone.
Life Alert wants to liberate lives while keeping you financially independent as well. As the industry leader in personal protection, Life Alert offers a variety of protection packages – some as inexpensive as a monthly cell phone. Living alone can be costly, and Life Alert understands the need for protection at a reasonable price. Moreover, Life Alert's price protection agreement protects you from hidden fees, price hikes, and bait and switch schemes that can occur without contracts.
Life Alert has been proven to provide independence by saving thousands of lives from any kind of medical or home emergency, including home intrusion. We dream of having "freedom ring from every village and every hamlet, from every state and every city…" just as Dr. King envisioned. Being free means being able to live the life that you want, Life Alert wants you to enjoy your freedom and independence at any age.
Trey Sunderland, M.D., chief of the Geriatric Psychiatry Branch of the National Institute of Mental Health, encourages people to participate in Alzheimer's research studies so that they learn about the illness and are followed carefully for any incremental change that might occur in their health. "Our volunteers have found that they actually get reassured by being in a study," says Sunderland. "For the most part, we're telling them--in our long-term follow-up studies--that they continue to be normal."
This information has been obtained from FDA and is updated by Life Alert ® frequently.